Transfer or recertify your CPST certification:
A two-part course is scheduled as follows, as part of Child Passenger Safety Week:
In-class: Tuesday, September 17th from 10:00-2:00 at the Winnipeg MFRC, 102 Comet Street, and;
Public Seat Check event: Saturday, September 21st from 9:00-1:00, location TBA.
Participation in all scheduled hours is required, and will result in CPST certification with the Child Passenger Safety Association of Canada, valid for three years.
This shortened transfer/renewal course is specifically for:
Current (or expired) CPSAC CPSTs to renew their certification, and
Current (or very recently expired) St John's Ambulance Child Restraints Systems Technicians (CRSTs) to transfer their certification to CPSAC.
This course is not a CPST Training Course. Proof of certification will be required.
Submission of the $75 registration fee (includes CPSAC fee, printed manual, all supplies, and insurance when volunteering) will register you in this course.
If you are transferring from SJA certification please also forward a copy of your current certification to greybird.cpst@gmail.com to confirm your eligibility to transfer.
CPSAC-certified CPSTs may attend provided their expiration is not more than one year prior to 21-Sep-2019. The instructor will confirm your eligibility with the CPSAC Registrar.
Direct all questions to Jen Shapka at greybird.cpst@gmail.com or Anna Blundell at anna.blundell.cpst@gmail.com. To register, please complete this brief registration form, and then submit payment.
Registration is now closed; please contact Jen for more information.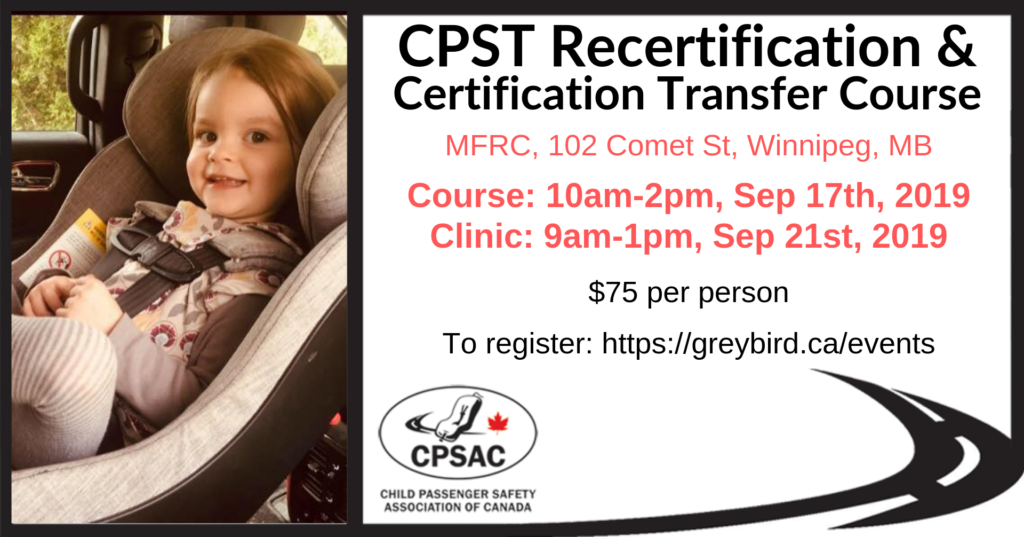 Child Passenger Safety Technician (CPST) Training Courses
Are you passionate about child passenger safety? Certification is with the Child Passenger Safety Association of Canada (CPSAC) and is valid for three years. CPST training course content is a mixture of hands on practice and classroom learning, and finishes with a public seat check event where you put your new skills to use helping families in your community. Certification comes with insurance while you volunteer, a network of other technicians to provide support, and up to date resources for your use.​​​
If you would like to subscribe to notification of upcoming CPSAC courses throughout Canada please do so here. Please also check currently scheduled CPSAC events throughout Canada here.