Welcome!
This page is all about masks. If you're here for car seat info just hop on over to see what services I offer here.
About the Masks
These masks are, of course, not medical-grade PPE. They are handmade, well-constructed, two-layer cotton cloth masks.
Are they the best masks ever? Maybe for you they are! My kids (ages 10 and 13) have decided they like wearing these ones best while at school. One kid just told me it was so comfortable that she forgot she was wearing it, and tried to drink water through it three times. Three times! High praise from a teenager.
All items shown are in stock, but many are one-of-a-kind so once it has been purchased, it's gone. I hope you like them as much as my family does.
UPDATE: 3-layer masks
Now available: purchase an add-on filter option for the original 2-layer cotton masks. Choose your fabric options and if you want a filter option, buy it separately and let me know at checkout which add-on options apply to which fabric choices. Original style 2-layer cotton masks will continue to be available.
2-layer cotton mask with filter pocket to insert a polypropylene filter (3 included with order), recommended for size large (adult) masks only; $4 add-on to a 2-layer cotton mask.
3-layer mask with a polypropylene layer sandwiched between two layers of cotton; $3 add-on to a 2-layer cotton mask.
Payment & Shipping:
Payment options are credit card or PayPal (via PayPal), or if you would prefer to e-transfer that is an option. Choose "cash on delivery" at checkout and then send an EMT to greybird.cpst@gmail.com for the total, referencing your order # in the memo line. I am set up for automatic deposit so no password required, but if your bank insists, don't forget to tell me what it is.
For those in Winnipeg who would prefer to pick-up choose the "local pick-up" option. I will email you to make arrangements.
I package and ship 1-2 times per week. All masks will go by regular letter mail. Cons: no tracking. Pros: very inexpensive, and I have priced the shipping accordingly.
Fit & Adjustability:
Shaped at the nose and chin with adjustable ear loops, these masks are made in three sizes. Read carefully to see which one is likely to be the best for you. Please know that I've described them to the best of my ability, tested on a range of people, but can not promise it will fit perfectly for you or your kids.
Which way is up? For most faces the longer, sewn-down triangle (viewed from the inside) will go at the nose, but if you prefer the fit the other way around there's no reason not to wear it that way.
Mini: For kids aged 2 through approximately 6. Kids under 2 should not wear a mask.
Medium: For kids approximately aged 6+ up to and including some adults with small or petite faces.
Adult: Will fit most adults, including over some beards.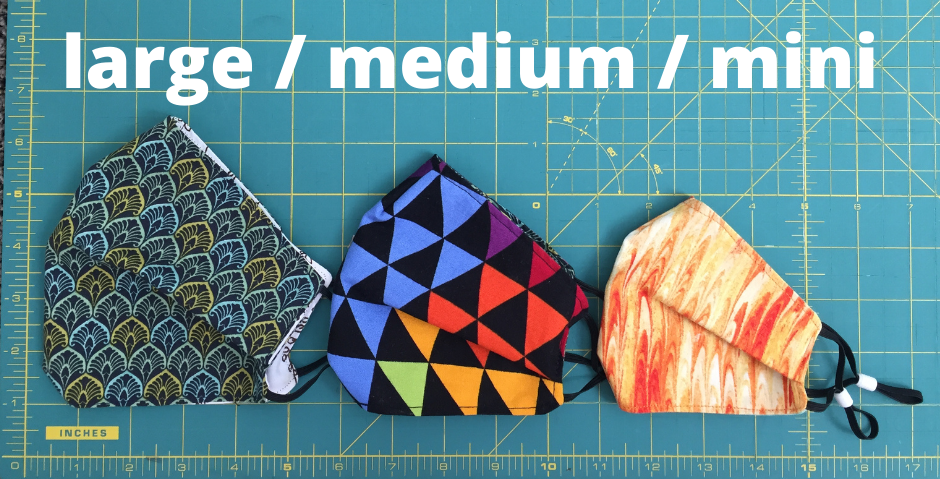 How to size:
Firstly, please forgive these ridiculous photos. These are not the best selfies I have ever taken but I'm committed to the mask-wearing cause and want you to be comfortable.
Use a flexible measuring tape (or non-stretchy string or anything else you can curve around your face and then line up to a ruler) and measure from the bridge of your nose to under your chin with your mouth open.
Less than 12 cm (4.75") --> mini
Between 12 cm (4.75") and 16 cm (6.25") --> medium
More than 16 cm (6.25") --> large
If you measure right on the line between sizes you will probably fit best in the larger size, and accept that it will be a bit big. But since we appear to be in this for the long haul, a child will likely grow into it. Adults who measure right on the border might have to gamble and pick...or get one of each and gift the one that isn't the best fit to lucky friend.
Photos below show how to measure (from two delightful angles), and then me wearing an adult mask (green) and a medium mask (black/rainbow). The medium one stays on my face if I don't open my mouth, but as soon as I talk it slips off my nose. I have spared you that photo; you're welcome.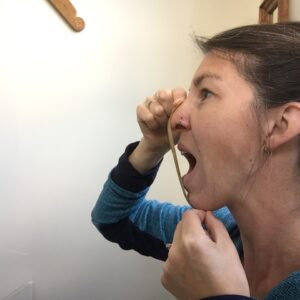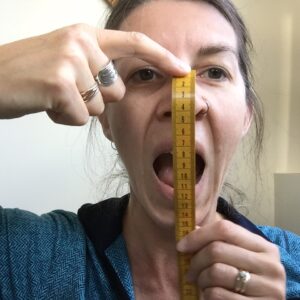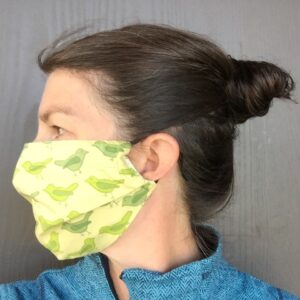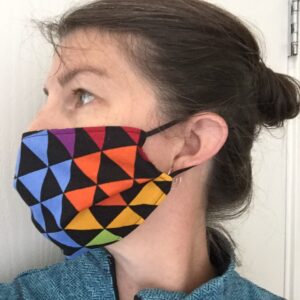 Adjusting fit of ear loops:
The adjusters are soft silicone, but grip nicely to the elastic. They don't move in the wash when contained in a delicates bag. Slide them along the loop until the mask sits comfortably on your face - evenly, or you can pull the top or bottom tighter or looser to change the angle at which it sits.
If you pull the adjuster off the end you can reattach it using a small-gauge crochet hook, or a needle and thread to draw the elastic back through. If your child is likely to pull the adjusters off, or you are around small children who put things in their mouths, tie a knot at the very end of the elastic, there should be sufficient length to do this (see photo of blue mask below).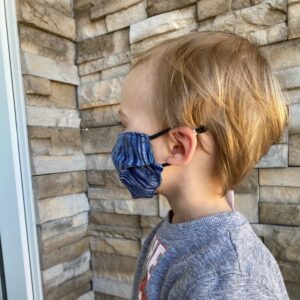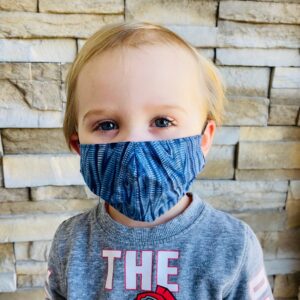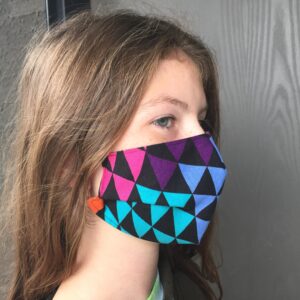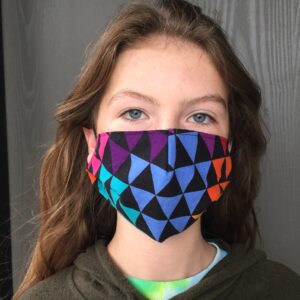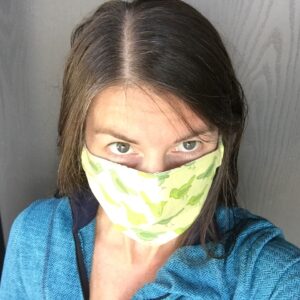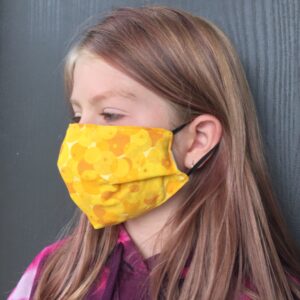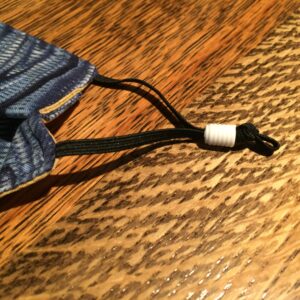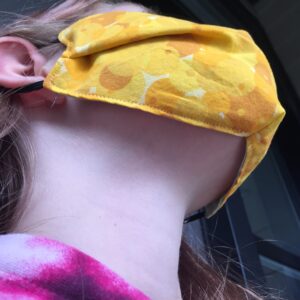 Fabric & Components:
All fabric has been pre-washed and pre-shrunk. The product photos show the outside fabric, and the liner is a surprise. Embrace the mystery!
Elastic is 3mm or 4mm flat, black at the moment because that is what is available. Availability of 3mm or 4mm has been variable but both are great options on this style of mask. If we encounter a worldwide shortage of elastic again (this is a real thing) the colour or type might change, but I'll choose the best available option.
Ear adjusters are silicone and are either black or white. Thread is high quality, and colour coordinates.
If there is a stray thread that made it past my aging eyes, please snip it, the mask won't fall apart.
Wash and Care:
Wash before wearing! And then wash and dry regularly. If you have a delicates, lingerie, or produce bag, consider washing masks in it. Hanging masks to dry will prolong the mask's life, but make sure they are fully dry before wearing. Any stitch marking remaining on the lining of the fabric will wash off the first time through the laundry. You could iron them if you wanted to, but…why? Ew. They don't need it to maintain their shape. The single pleat will expand when the ear loops are hooked on.
Update: if you have purchased a filter add-on and have a mask containing polypropylene you can prolong the filter's life by washing in warm or cold (not hot) water, and if you tumble dry, remove them when damp and leave them to air dry fully. Polypropylene fabric is not intended for machine washing and drying, and despite Health Canada's recommendation to include this layer it is unclear how this fabric will hold up over time. If you iron a mask with a filter do so with low-medium heat; high heat will melt the liner and there's no fixing it.
About Me:
I'm Jen. I've been sewing since I was 7. As a teenager I made alternations for a local funky clothing store, upcyling and rehabbing denim and other items before it was cool. In the early 2000s I learned to quilt, and a quilter almost never throws out even the tiniest scrap of fabric. Once upon a time I taught home ec to middle schoolers, and sewing to young offenders. In April and May 2020 I contributed a significant quantity of the 10,000+ scrub cabs locally produced for healthcare workers and that depleted my fabric stash quite a bit, but there was enough left for masks. The world opened up, and then school started, and suddenly my family (and I) were very particular about the fit, comfort, and look of their masks. I experimented with a lot of different patterns and we have all decided that this one is our favourite. Maybe it will become yours too.